Accelerated, lightning, food flying, balloons that burst, glasses that break, images with high dynamics ... whatever the style of photography, as the Ansel Adams said, "we do not take a picture, we do".More than ever, it is now much easier to make creative photos by extending the capabilities of your camera. Discover Flex, an intelligent gadget for creative
In Stock
With its custom-engineered capsule and low-profile form factor, the black Rode Lavalier II omnidirectional lavalier microphone is a visually discreet solution when you need clear, intelligible, and tonally neutral speech reproduction for online content, vlogs, film projects, live streams, interviews, and broadcasts. Not only is the capsule easily concealed,
In Stock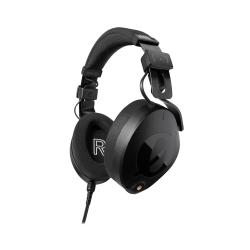 The RØDE NTH-100s are professional over-ear headphones that deliver exceptional sonic performance and superior comfort for critical listening and monitoring. Featuring custom-matched drivers for an incredibly accurate frequency response and a state-of-the-art acoustic design optimised for enhanced detail and clarity, they are the ideal headphones for all
In Stock
Fly longer and safer with the ultra-portable Mini 3 Pro with RC-N1 Remote from DJI. One of the biggest improvements over the Mini 2 is the inclusion of a tri-directional obstacle avoidance system, which can avoid accidents by automatically detecting and avoiding obstacles in its flight path. The Mini 3 Pro also provides an upgrade in visual quality, adding
In Stock
The RODECaster Pro II is the ultimate audio production solution for content creators, including streamers, podcasters and musicians. Combining revolutionary features with superior sound quality, endless customisability and unmatched ease of use, the RODECaster Pro II is all you will ever need to record incredible audio for your content.
This product will be available later
The DJI RS 3 has been redesigned to be even lighter and sleeker than the Ronin RSC 2 gimbal at only 990g with a payload of up to 3kg. This tiny gimbal is tough enough to support and stabilize a Sony a7S III or Canon R5 with a 24-70mm zoom lens attached. With a larger full-color OLED display, a new fine-tuning knob, and greater stability, the RS 3 can become
On order
The DJI RS3 Pro Gimbal Stabilizer has been redesigned to be sleeker and more powerful than the Ronin RS 2 gimbal, with its carbon fiber body weighing only 1143 g and a payload of up to 4,5kg. This tiny gimbal is tough enough to support and stabilize midsize cameras such as the Sony FX6 or Canon C70 with a 24-70mm zoom lens attached. With a larger full-color
On order