Pour les pro et les photographes passionnés souhaitant transporter leur matériel de façon confortable et en toute sécurité.   La version pro offre une courroie plus large que la version classique et permet d'accrocher l'objectif en plus du boîtier. Celle-ci est plutôt conçue pour les objectifs avec collier de pied.   Le modèle Fs intègre un plateau type
This product will be available later
The modular, quick adjust, sling featuring our patented mount technology. Effortless all day carry for a camera that's locked at your side and fast into action.
In Stock
...
This product will be available later
Carry Speed Double Pro MKII. Courroie pour 2 appareils photo.   Livré avec 2 plateaux F2 compatibles Arca
This product will be available later
Loupe amovible pour écran LCD de 3,2 pouces de diagonales. S'adapte à la plupart des reflex actuels. Idéal pour revisualiser les photo ou utiliser l'écran à la prise de vue (Live-View ou mode Vidéo).   - Grossissement 3X - Dioptrie + ou - 3 - Pour écran 3.2" - Montage sans collage          
In Stock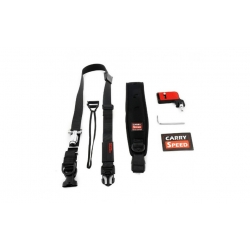 Pour les pro et les photographes passionnés souhaitant transporter leur matériel de façon confortable et en toute sécurité.  
Out of stock
Carry Speed F2 Foldable Plate   Attache pour courroie avec support orientable.   Compatible Arca
This product will be available later